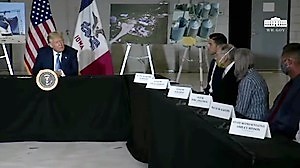 During a briefing on storm damage in Iowa Tuesday, President Donald Trump heard from Sen. Joni Ernst (R-IA) about issues facing the ethanol industry, particularly the threat of the Environmental Protection Agency granting retroactive small refinery exemptions for previous years.
"Our farmers would love to know that with these gap year waivers that the oil refineries are submitting to the EPA, that we just dispense of those," Sen. Ernst told the president. "Obviously with the crop damage that would be a great step forward."
Sen. Ernst was one of several Iowa officials who met with the president about crop damage from the devastating derecho that torn through the state August 10 with hurricane force winds. Early estimates indicate almost $4 billion in damage from loss of crops and building such as grain bins.
Ernst explained the impact COVID has had on the ethanol industry and said farmers would come back stronger than ever, but they just need the EPA to follow the intent of the law with the Renewable Fuel Standard. "We'll speak to them," said Trump. "I'll do it myself."
Listen to the conversation here:
Sen. Ernst talks ethanol with Pres. Trump 1:39