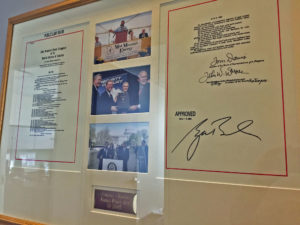 The Renewable Fuels Association (RFA) commemorated the 15th anniversary of President George W. Bush's signing of the Energy Policy Act of 2005, which created the Renewable Fuel Standard, by releasing a new report detailing how the policy has driven innovation in the ethanol industry to benefit the nation. President Bush signed the act August 8, 2005.
"As you'll see in this report, the RFS has been a smashing success," said RFA President and CEO Geoff Cooper. "In addition to decreasing reliance on imported petroleum, the RFS has reduced emissions of harmful tailpipe pollutants and greenhouse gases, lowered consumer fuel prices, supported hundreds of thousands of jobs in rural America, and boosted the agricultural economy by adding value to the crops produced by our nation's farmers."
The report details how ethanol and co-product output has quadrupled in 15 years as ethanol consumption has more than tripled, enhancing U.S. energy security while saving consumers money at the pump. According to the report, the use of ethanol has reduced greenhouse gas emissions and cleaned up air pollution, the number of jobs supported by the industry has more than doubled, and ethanol has contributed substantially to the agriculture sector, supporting corn prices and farm incomes.
The report also includes historical perspective from RFA Senior Strategic Advisor Bob Dinneen, who led RFA through this important policy change. "We've probably all seen the Schoolhouse Rock version of 'How a Bill Becomes a Law'," Dinneen writes. "It does a great job of explaining the legislative process. But it cannot capture the circuitous adventure and machinations that occur before an idea materializes into legislative language. That is particularly true when it comes to the 2005 Energy Bill and the Renewable Fuel Standard."
RFA's Cooper held a press call to discuss the success of the RFS, including comments from RFA Chairman Neil Koehler, Pacific Ethanol; Randy Doyal, Al-Corn Clean Fuel; and RFA Economist Scott Richman.
RFA 15th anniversary of the RFS media call
Q & A portion
RFA RFS anniversary call Q&A