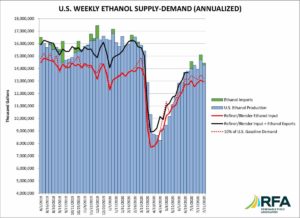 U.S. ethanol production took a step back last week, after taking two steps forward the week before.
According to EIA data analyzed by the Renewable Fuels Association for the week ending July 31, ethanol production moderated by 2.8%, or 27,000 barrels per day (b/d), to 931,000 b/d—equivalent to 39.10 million gallons daily. Production remained 10.5% below the same week in 2019 as a result of the continuing effects of the COVID-19 pandemic. The four-week average ethanol production rate increased 0.4% to 932,000 b/d, equivalent to an annualized rate of 14.29 billion gallons.
Production dropped the week ending July 17, after steadily increasing since an historic low was hit April 24 when more than half of the ethanol industry's production capacity was shut down. The week ending July 24, ethanol production recovered and increased by 5.5%, or 49,000 barrels per day (b/d).
The COVID-19 pandemic has already resulted in $3.4 billion in lost revenues for the U.S. ethanol industry this year, according to an economic analysis by RFA, and damages could reach nearly $9 billion into 2021.