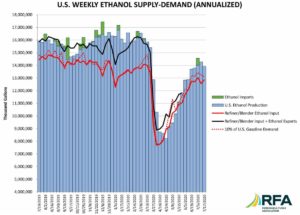 Ethanol production slowed its steady upward pace last week for the first time since the end of April, dropping by 2.5 percent from the previous week.
According to EIA data analyzed by the Renewable Fuels Association for the week ending July 17, ethanol production slowed by 2.5%, or 23,000 barrels per day (b/d), to 908,000 b/d—equivalent to 38.14 million gallons daily. Production remains tempered due to COVID-19 disruptions, coming in 12.6% below the same week in 2019. The four-week average ethanol production rate ticked 0.3% higher to 913,000 b/d, equivalent to an annualized rate of 14.00 billion gallons.
Ethanol stocks thinned by 3.9% to 19.8 million barrels and 16.4% below year-ago volumes. Inventories tightened across all regions and are at their lowest level since the last week of 2016.