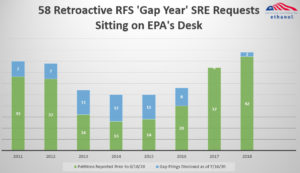 Environmental Protection Agency (EPA) has updated its Small Refinery Exemption (SRE) dashboard, revealing six more retroactive "gap-year" petitions for compliance years 2011 through 2016 under the Renewable Fuel Standard (RFS), bringing the total now to 58.
"We are already halfway through the year and instead of taking steps to comply with the January Tenth Circuit Court ruling to limit Small Refinery Exemptions under the Renewable Fuel Standard, EPA seems merely interested in providing refiners yet another escape hatch in the form of the now nearly 60 retroactive waiver requests," said American Coalition for Ethanol (ACE) CEO Brian Jennings.
The EPA dashboard shows 86 SRE petitions currently pending, including the 58 gap year SRE petitions.