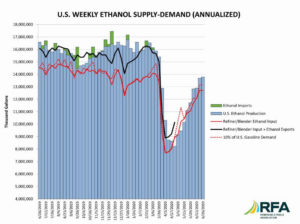 U.S. ethanol production is slowly clawing its way upward to more normal levels after reaching record lows in April.
According to EIA data analyzed by the Renewable Fuels Association for the week ending June 26, ethanol production rose 0.8%, or 7,000 barrels per day (b/d), to 900,000 b/d—equivalent to 37.80 million gallons daily. Production remains tempered due to COVID-19 disruptions, coming in 16.7% below the same week in 2019. The four-week average ethanol production rate rose 4.1% to 868,000 b/d, equivalent to an annualized rate of 13.31 billion gallons.
Ethanol stocks diminished for the tenth consecutive week, down 4.1% to 20.2 million barrels and 11.7% below year-ago volumes. Inventories tightened across all regions and are at their lowest level since the first week of 2017.