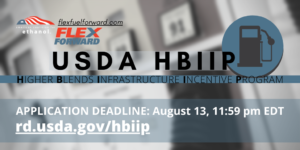 The American Coalition for Ethanol (ACE) has launched a series of short fuel marketer-focused videos, along with a broader digital advertising campaign, to help fuel retailers understand and navigate the application process for USDA's Higher Blends Infrastructure Incentive Program (HBIIP).
The series on flexfuelforward.com is hosted by ACE Senior Vice President Ron Lamberty, a former convenience store owner who breaks down the application process with Tony Crooks and Kelly Bogle of the USDA office running the HBIIP program, to create content tailored for retailers and giving them the best chance at being awarded a grant.
"The HBIIP application can look pretty daunting to busy operators of single c-stores and small chains that don't have departments or staff to handle this sort of thing. Retailers need to know they can complete the application process themselves, with a little help from us when they need it." Lamberty said. "The goal of this video series is to break the HBIIP application into bite-sized pieces, so marketers can finish it off a little at a time."
All thie month,leading up to the August 13 application deadline, retailers will be directed to the HBIIP resources through paid advertising on social media and in print and online convenience store industry publications and websites. Following the HBIIP push, the campaign focus will turn to E15 station conversions.