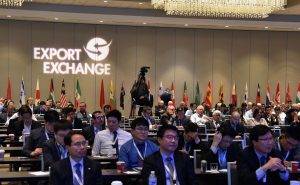 The biennial Export Exchange is being postponed until 2021.
The Exchange is co-sponsored by the Renewable Fuels Association, U.S. Grains Council, and Growth Energy and held every other year to bring together buyers and sellers of U.S. coarse grains and co-products, including the distiller's dried grains with solubles (DDGS). The three organizations issued a joint statement on the postponement.
"As a result of the coronavirus and our concern for the safety of our attendees who travel from around the globe to come to this event, we've decided to postpone Export Exchange until the same time next year. Doing so will ensure we will have an event on par with the caliber of the meetings our guests have come to expect—without the specter of COVID-19."
Export Exchange 2021 is scheduled for October 6-8, 2021 at the Loews Kansas City.