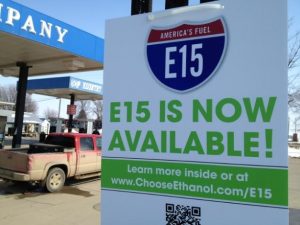 A year ago, the U.S. Environmental Protection Agency, at the direction of President Donald Trump, issued a final rule allowing retailers to sell 15% ethanol (E15) gas year-round in all parts of the country. That action created an increase in sales of E15 to more than 450 million gallons in 2019.
Renewable Fuels Association (RFA) economist Scott Richman says the growth in E15 has been fueled by a more than 16% increase in retail stations offering E15. "We've seen stations go from about 1800 a year ago to about 2100 now," said Richman. "We think E15 sales basically increased by close to 50 percent in 2019."
Ethanol production continues a slow recovery, inching up another 5.7%, or 40,000 barrels per day (b/d) last week, the largest volume since March. However, production remains tempered due to COVID-19 disruptions, coming in 26.7% below the same week in 2019. Richman says they are expecting that to continue as the economy opens up and people start moving again. "The amount of fuel usage has really staged a pretty strong initial recovery," said Richman, and while that has slowed, it is still increasing.
Learn more in this interview.
Interview with RFA economist Scott Richman 8:59