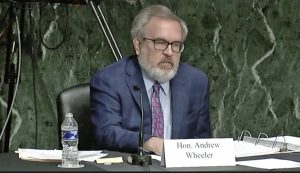 During a hearing last week before the Senate Environment and Public Works Committee, EPA Administrator Andrew Wheeler was pushed by senators on both sides of the Renewable Fuel Standard for a commitment to helping them.
Sen. John Barrasso (R-WY), who spearheaded a letter to Wheeler from oil state senators, expressed his dissatisfaction with the 10th circuit court decision regarding small refinery waivers and pressured Wheeler to commit to giving any petitions for hardship relief for small refineries in prior years prompt consideration, and reconsider "petitions which it wrongfully denied" in prior years.
"We are looking to see what relief we can provide everyone," said Wheeler. "The ethanol industry is also hurting as well. But the small refiners in particular because of the 10th circuit decision and because of the amount of gasoline that's currently being sold and used."
Sen. Joni Ernst (R-IA) told Wheeler she is frustrated with claims by some in the petroleum sector to blame biofuels and argue "that the RFS is the cause of their recent business troubles, not the COVID-19 pandemic." She stressed that the law requires any waiver to have "clear evidence that the source of economic pain is the RFS" and asked Wheeler to commit to looking at past precedence in determining economic harm.
Sen. Ernst also questioned Wheeler about a promise he made to her last fall to eliminate E15 warning labels on fuel pumps. "It's actually more complicated than what I said in that meeting," said Wheeler.
Listen to the exchanges in full:
Sen. Barrasso/Andrew Wheeler
Sen. Ernst/Andrew Wheeler