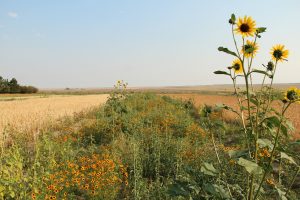 The ethanol industry is celebrating Earth Day with the announcement that Trenton Agri Products (TAP) in Nebraska will become the first demonstration site for a new ethanol industry initiative to expand pollinator habitat in key production regions.
TAP will establish a 5-acre pollinator plot this spring near the entrance to their facility to increase awareness and encourage local farmers to expand pollinator habitat on private lands. The plot will remain in place for at least three years.
The Renewable Fuels Association and Renewable Fuels Nebraska made the announcement which begins implementation of the pilot project launched in February. The initiative also includes Nebraska Corn (comprising the Nebraska Corn Board and the Nebraska Corn Growers Association) and Pheasants Forever, Inc. in collaboration with Field to Market: The Alliance for Sustainable Agriculture to expand critical pollinator habitat as part of the ethanol industry's commitment to improving biodiversity.