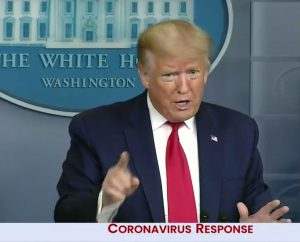 During the daily White House Coronavirus Task Force briefing on Thursday, President Donald Trump said help for hurting farmers is coming soon.
"We have money going out to our farmers in the pretty near future," said President Trump. "The farmers got hurt very badly by all of this. People are eating less from the standpoint that there's no restaurants that are open, no businesses are open, no hotels are open, they'll start to come back, but we're going to be helping out our farmers."
President Trump on coronavirus aid for farmers
(:25)
Closed restaurants and hotels, along with schools and other large operations that require food service, are the main reason that food prices are plummeting because they are no longer buying milk, meat, fruits, vegetables and other food.
According to the American Farm Bureau, nearby futures prices for nearly all the major crops have dropped by double-digit percentages. Pushed down by a 40% plunge in ethanol prices, corn prices have fallen 15%. Soybean prices are down 10%, while the price for cotton, which is heavily dependent on foreign manufacturing capacity, sank nearly 30%. Buoyed by demand in the U.S. and China, wheat prices have declined only 3%.
On the livestock front, since the beginning of the year, both beef and pork futures prices have declined more than 30%. Milk futures prices have also fallen sharply, with the price for milk used to make cheese down 28% and the price for milk used to make nonfat dry milk falling by 34%.