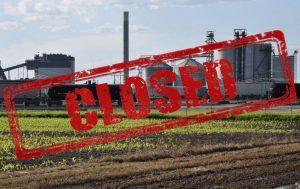 Iowa Republican Senators Chuck Grassley and Joni Ernst, along with Tammy Duckworth (D-IL), led a dozen more of their Senate colleagues in sending a letter to Secretary of Agriculture Sonny Perdue requesting additional funds be allocated to the biofuel industry through the Commodity Credit Corporation (CCC) during the unprecedented economic circumstances brought on by the COVID-19 pandemic.
"As the country follows the advice of local and state governments and remain at home, motor fuel use has rapidly decreased… The decrease in fuel consumption has left production facilities little choice but to idle production or close completely," the senators wrote in the letter.
According to Renewable Fuels Association President and CEO Geoff Cooper, as of Monday, 41 ethanol plants with an annual production capacity of 3.2 billion gallons have been fully idled, while 66 plants have reduced their output rates by a collective 1.8 billion gallons. "Ethanol prices have plunged to record lows, stocks are at all-time highs, and plants throughout the Heartland are shutting down. As ethanol serves as the largest market for U.S. corn growers, the well-being of the ethanol industry is directly linked to farm income and the livelihood of farm families across the nation. We agree with the senators that providing assistance to the renewable fuels industry would be an appropriate and timely use of emergency relief funding appropriated to USDA."
The historic Coronavirus Aid, Relief, and Economic Stabilization (CARES) Act provided an additional $14 billion to the CCC to help stabilize, support and protect farm income and prices while also maintaining balanced and adequate supplies of agricultural commodities.