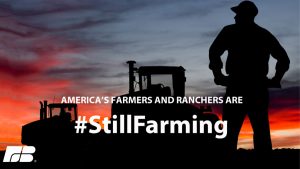 Agricultural commodity prices are taking big hits from the COVID-19 emergency, and one of the most hard hit sectors is ethanol, according to the American Farm Bureau Federation (AFBF).
In the past month, dairy prices have dropped 26-36%, corn futures have dropped by 14%, soybean futures are down 8% and cotton futures have plummeted 31%. Hog futures are down by 31%, prices paid to cattle ranchers have fallen 25%, and ethanol prices are down 35%.
Abiding by travel restrictions, people are driving far less, pushing down demand for both oil and ethanol made from corn. A 35% drop in ethanol prices caused some plants to stop production, further depressing corn prices. The sudden change also cut off the supply of dried distillers grains — a byproduct of ethanol production and source of high-protein feed — for livestock producers, who are left scrambling to find a replacement.
AFBF Economist Veronica Nigh says another impact from the decline in ethanol production is in meat processing, which uses the byproduct CO2. "Ethanol plants are the largest producers of CO2 in the U.S.," said Nigh.
AFBF Economist Veronica Nigh on ethanol declines (1:11)
During a telephone press call on Friday, Minnesota cattle producer Peter Bakken said he uses distillers grains for 25% of his feed and while his local ethanol plant is still operating, he is being rationed.
Comments from MN cattle farmer Peter Bakken (1:37)