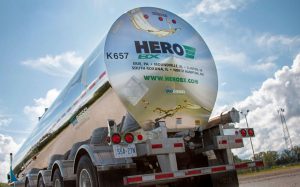 It's National Biodiesel Day, in honor of Rudolf Diesel's birthday, and the National Biodiesel Board (NBB) is celebrating with its 2020 vehicle branding program designed to showcase biodiesel's sustainability and emissions reduction benefits with the theme "Biodiesel: Better. Cleaner. Now!"
"When Rudolf invented the diesel engine in the 1890s, it was designed to run on peanut oil and he envisioned the prominent role plant oils could play in fueling vehicles of the future," said Kaleb Little, NBB director of communications. "Our industry has come a long way since then and we are excited to highlight numerous fleets advertising their biodiesel use right on their vehicles."
NBB is also launching the 2020 branding program to help biodiesel users across the country share their stories of sustainability and emissions reductions.
"Our new tagline, "Biodiesel: Better. Cleaner. Now!", tells the biodiesel story simply," said Little. "Biodiesel is better and cleaner than petroleum diesel – with proven environmental, health and economic benefits – and is ready to use now, unlike some other options that require massive infrastructure or retrofit investments."
NBB encourages biodiesel users to promote their use of biodiesel and share its benefits by applying for matching funds to be used for vehicle branding initiatives which may include wraps, stickers, or other innovative efforts. Applications are available online and are due by April 30, 2020. Last year, NBB provided matching funds to six biodiesel users – Roslin Enterprises; Cape Cod Biofuels; The City of Moline, Illinois; G&D Integrated; CityLink, Greater Peoria Mass Transit District; and Al Warren Oil.
NBB held a webinar Wednesday to discuss the vehicle wrap program. Listen below to part of the webinar with Kaleb Little of NBB and Tim Keaveney of Hero BX, who talks about how the program has worked for them.
NBB Branding vehicle wrap program
(10:07)