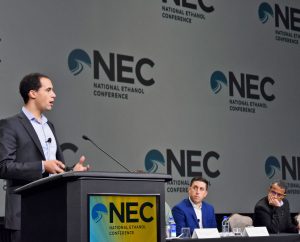 The 2020 National Ethanol Conference included a panel discussion on new uses for ethanol, moderated by Erik Huschitt, CEO and General Manager of Badger State Ethanol, LLC. Panelists included Keegan O'Donnell, Gas Power Systems, New Product Engineering, General Electric; Prabhakar Nair, VP Business Development, LanzaTech; and BJ Johnson, CEO, ClearFlame Engines.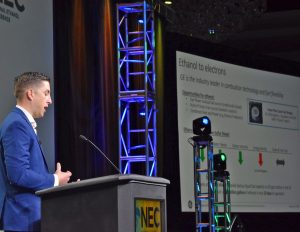 O'Donnell shared some of the reasons GE is so interested in ethanol and the opportunities that may exist in the power industry.
"When you look at what ethanol versus low sulfur diesel buys us, obviously it buys us lower emissions," said O'Donnell. "The big one for us is water needs. In the U.S., water is relatively cheap, but there are other places in the world where water is actually sometimes more expensive than the fuel."
O'Donnell said there are several possibilities and just a few manageable drawbacks when it comes to increasing ethanol use by companies like GE.
New Uses for Ethanol Panel Discussion at 2020 National Ethanol Conference
New Uses for Ethanol Panel, 2020 National Ethanol Conference