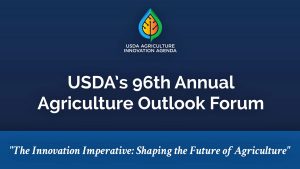 At the start of USDA's 2020 Agriculture Outlook Forum on Thursday, Secretary of Agriculture Sonny Perdue announced the Agriculture Innovation Agenda, a new initiative to stimulate innovation so American agriculture can achieve the goal of increasing production by 40 percent while cutting the environmental footprint of U.S. agriculture in half by 2050.
To do so, USDA has set benchmarks to help measure progress toward meeting the ambitious goal in certain areas, including renewable energy.
Specifically, the agenda calls for USDA to support renewable fuels, including ethanol, biodiesel, and biomass; and increase biofuel feedstock production and biofuel production efficiency and competitiveness to achieve market-driven blend rates of E15 in 2030 and E30 in 2050, as well as achieve market-driven demand for biomass and biodiesel.
Listen to the secretary's announcement here:
USDA Outlook 2020 Secretary Perdue 21:33
"We welcome Secretary Purdue's announcement today of a bold new initiative that seeks to stimulate innovation in the agricultural sector and expand the use of ethanol and other renewable fuels," said Renewable Fuels Association President and CEO Geoff Cooper. "With ethanol, we don't have to wait and hope for major technological or economic breakthroughs; the fuel is available now at a low cost to drive decarbonization of our liquid fuels. American farmers and ethanol producers have a long history of rising to meet ambitious goals and taking on daunting challenges, and we are excited and eager to work with the Administration to make this new vision a reality."