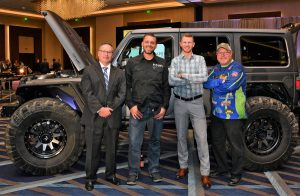 Off the road, on the racetrack, or in the water, the benefits of ethanol go beyond the highway.
Attendees at the 25th National Ethanol Conference got to hear about ethanol's success in recreational uses like off-road vehicles and boats, providing power, reduced emissions and lower fuel costs. They also got to see Renewable Fuels Association (RFA) flex-fuel Jeep Wrangler up close and personal, as well as meet the guy who made it a reality.
RFA VP of Industry Relations Robert White moderated a panel with Kenny Hauk, Hauk Designs; Brian Sowers, Crappie Masters; and Derek Tidd of Tidd Racing.
Listen to their conversation:
RFANEC Ethanol Off Road panel 58:12
Interview with Kenny Hauk of Hauk Designs, High power E85 Jeep Wrangler builder
RFANEC Interview with Kenny Hauk, Hauk Designs 12:18