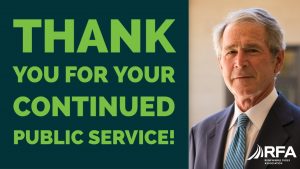 The Renewable Fuels Association was honored to welcome George W. Bush, the 43rd President of the United States, to the 25th Annual National Ethanol Conference today in Houston.
By championing an all-of-the-above approach to domestic energy production while in office, President Bush put the United States on a course toward greater energy security and made an indelible mark on agriculture and the renewable fuels industry.
RFA Senior Strategic Advisor Bob Dinneen was thrilled to be able to hear from the former president who signed the Energy Policy Act of 2005, creating the original Renewable Fuel Standard (RFS). In December 2007, he signed into law the Energy Independence and Security Act of 2007, which extended and greatly expanded the RFS. Between these two signature events, in April 2006, President Bush spoke to RFA members in Washington, D.C., where he addressed the importance of energy independence and security.
We have no photos or audio from the president's appearance as no media were permitted to attend, but Dinneen shared his impressions and reflections in this interview.
RFA Senior Strategic Advisor Bob Dinneen reflects on 25th NEC and 15th RFS anniversary
RFANEC Interview with Bob Dinneen, RFA Senior Strategic Advisor 11:46