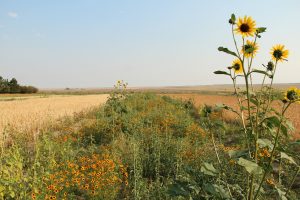 At the National Ethanol Conference in Houston Monday, the Renewable Fuels Association announced the launch of a pilot project in collaboration with Nebraska corn and ethanol groups and Pheasants Forever to expand critical pollinator habitat as part of the ethanol industry's commitment to improving biodiversity in key production regions.
The project, with Field to Market: The Alliance for Sustainable Agriculture, is designed to establishe pollinator habitat and demonstration sites in collaboration with Nebraska ethanol plants. The project will provide support to local corn growers, with the goal of expanding similar habitat with partnering farmers and impacting a minimum of 1,000 acres.
Renewable Fuels Nebraska executive director Troy Bredenkamp says the participating ethanol plants will provide an educational showcase for local farmers in the area by hosting pollinator workshops to increase awareness of these conservation practices. The project will also work to accelerate the adoption of pollinator and wildlife habitat on private lands through financial and technical assistance by leveraging existing Pheasants Forever habitat partnership programs.
Learn more from Bredenkamp in this interview:
RFANEC Interview with Troy Bredenkamp, Renewable Fuels Nebraska 7:29