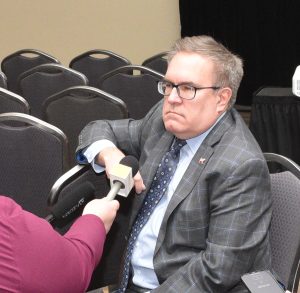 Environmental Protection Agency Administrator Andrew Wheeler says the recent 10th Circuit Court decision regarding small refinery exemptions may have a significant impact on the program.
"That (court decision) has the potential to completely, of changing the small refinery program," said Wheeler to reporters during a visit Friday to the National Cattlemen's Beef Association (NCBA) meeting in San Antonio. "We're taking a close look at the 10th circuit decision and the ramifications to the program and we'll have something out on that shortly."
Specifically, Wheeler says the court found for three refineries that "they were ineligible for the program under the law" because according to the statute "you have to have received the small refinery exemption year after year."
Listen to Wheeler's exchange with reporter Spencer Chase of Agri-Pulse.
EPA Admin Wheeler comments on SRE court decision
That court decision will be a big topic of conversation at the National Ethanol Conference next week in Houston.