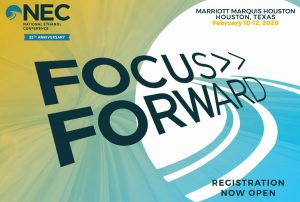 With a theme of "Focus Forward," the 25th annual National Ethanol Conference is shaping up to be an historic event next week in Houston, Texas, the "energy capital of the world."
"We're thrilled to have such a terrific program this year, with speakers and panelists representing a wide range of interests and viewpoints from around the world,"" said Renewable Fuels Association President and CEO Geoff Cooper. "There will not just be 'something for everyone,' but many things for everyone—so many ways to learn, connect, share and get more involved as we focus forward on the exciting future for high-octane, low-carbon renewable fuels."
RFA CEO Geoff Cooper
(:55)
Among the highlights will be "A Special Conversation with President George W. Bush – The Challenges Facing Our Nation in the 21st Century and the Power of Freedom," which will take place Tuesday morning. There are extremely strict rules in place for this conversation allowing no media coverage at all and "no photography, recording or social media use by the audience will be allowed during the session." So, if you really want to hear what the 43rd president of the United States has to say about ethanol, you will just have to be there in person.
Political analyst Bill Kristol, Director of Defending Democracy Together, will talk politics at the Tuesday luncheon. U.S. Department of Agriculture Under Secretary for Trade and Foreign Agricultural Affairs Ted McKinney will talk trade on Wednesday, Feb. 12. Timely session topics include implications of the 10th Circuit Court's SRE decision, octane, low carbon fuel standards, ethanol off-road, exports and more.
Registration is still open for the conference Feb. 10-12 at the Marriott Marquis Houston.