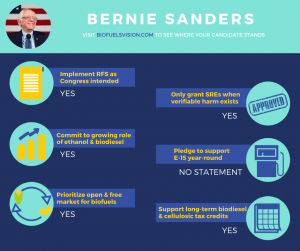 Initial Iowa Caucus results are showing Pete Buttigieg and Bernie Sanders in the lead, both of whom profess strong support for ethanol and biodiesel, according to Biofuels Vision 2020. In fact, all of the top candidates are friendly to biofuels, including Vice President Joe Biden, Sen. Amy Klobuchar of Minnesota and Sen. Elizabeth Warren.
Biofuels Vision 2020 spent months asking candidates directly about: Implementing the RFS as intended; only granting SREs when verifiable harm exists; committing to the growing role of corn ethanol and soy biodiesel; supporting year-round E15; prioritizing open and free markets for biofuels in trade negotiations, and supporting long-term extensions of biodiesel and cellulosic tax credits. All leading candidates supported the top six issues to the biofuels industry.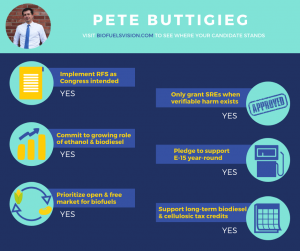 Former South Bend, Indiana Mayor Pete Buttigieg visited the Golden Grain ethanol plant in Mason City back in November and later brought up the issue of Small Refinery Exemptions (SREs) during the Democratic debate in Atlanta when he was asked whether he would continue the "farm subsidies" that President Trump has authorized to help farmers struggling from the impact of the trade war with China. "We shouldn't have to pay farmers to take the edge off of a trade war that shouldn't have been started in the first place," said Buttigieg.
However, Buttigieg said there are other problems facing farmers. "The worst thing is these so-called small refinery waivers which are killing those who are involved in ethanol," he said.
Listen:
Presidential candidate Mayor Pete Buttigieg – farmers, trade, China, ethanol (1:41)