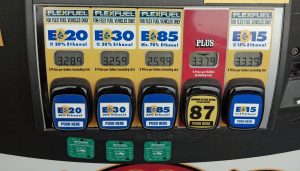 Biofuels organizations submitted comments this week on USDA's proposed Higher Blends Infrastructure Incentive Program (HBIIP) to expand the availability of domestic ethanol and biodiesel by incentivizing the expansion of sales of renewable fuels and facilitating increased sales of higher biofuel blends (E15 or higher).
The American Coalition for Ethanol (ACE) made a number of recommendations that USDA should consider in the final HBIIP. Among them, incentivize the highest number of locations available over the widest geography possible, and provide incentives to wholesale blending facilities, make any equipment used to store, blend, and dispense higher blends of ethanol eligible under the program, and provide a combination of grants and high percentage direct cost share to help smaller operators.
The Renewable Fuels Association in its response to USDA recommended that available funding be primarily directed at offsetting the costs to install and/or upgrade retail and wholesale infrastructure compatible with higher biofuel blends. In addition, RFA stated that funding assistance should be accessible to retailers of all sizes and on a nationwide basis. This should include everything from small, single-store owners to mid-size retailers and large chains.
The National Biodiesel Board (NBB) expressed the biodiesel industry's gratitude for inclusion in the program, since the infrastructure needs for biodiesel, renewable diesel, Bioheat®, and sustainable aviation fuel are different from those of other biofuels. NBB asked USDA to focus the program on investments in strategic terminals, pipeline storage and rail expansion to create broader downstream capacity to sell more gallons.