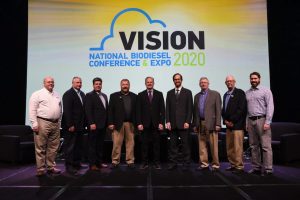 American Soybean Association (ASA) CEO Ryan Findlay was on the program at the 2020 National Biodiesel Conference in Tampa last week, sharing his policy views for the new decade. A number of ASA directors were also in attendance showing their support for the biodiesel industry, which increases the value of U.S. soybean oil by 11 cents per pound and 63 cents per every bushel of soybeans.
In this interview, Findlay discusses policy priorities, trade issues, the upcoming Commodity Classic, and more.
NBB2020 Interview with Ryan Findlay, American Soybean Association CEO (7:52)

In addition to serving on the ASA Board of Directors, Illinois farmer Rob Shaffer is on the executive committee of the National Biodiesel Board as second vice chairman. He talks soybeans and biodiesel in this interview, and how ASA is celebrating its "First Soy Century" 100th anniversary this year.
NBB2020 Interview with NBB board member Rob Shaffer, Illinois farmer
(5:46)