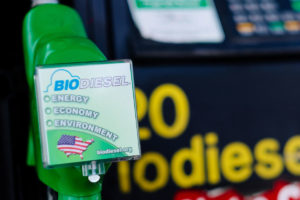 Dickinson County has become the first in Iowa to follow the lead of Iowa Governor Kim Reynolds by declaring all new diesel vehicles procured by the county must be explicitly approved for the use of B20, 20% biodiesel.
On December 3, 2019 Governor Reynolds signed an executive order declaring that new diesel vehicles procured by the state's executive branch must be approved for the use of B20. Following the suggestion from Iowa Renewable Fuels Association (IRFA) Board Member Al Giese, County Supervisor Tim Fairchild championed the effort to enact a similar policy in Dickinson County.
"We thank Al Giese and Supervisor Tim Fairchild for leading the effort in their county to support biodiesel," said IRFA Executive Director Monte Shaw. "With her executive order, Governor Reynolds laid out a great roadmap for counties and other local governments across Iowa to support biodiesel and encourage more diesel engine manufacturers to approve B20 for use in their engines. We hope Dickinson County is first of many to follow this roadmap."
Iowa is the country's leading producer of biodiesel, producing 365 million gallons in 2018. The state's 11 plants have the capacity to produce nearly 400 million gallons annually.