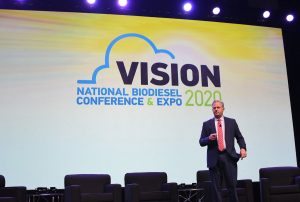 The 2020 National Biodiesel Conference & Expo kicked off Tuesday in Tampa with a new industry vision for a new decade.
National Biodiesel Board CEO Donnell Rehagen unveiled the new industry vision statement in his state of the industry remarks to attendees.
Biodiesel, renewable diesel, and renewable jet fuel will be recognized as mainstream low-carbon fuel options with superior performance and emission characteristics. In on road, off road, air transportation, electricity generation, and home heating applications, use will exceed six billion gallons by 2030, eliminating over 35 million metric tons of CO2 equivalent greenhouse gas emissions annually. With advancements in feedstock, use will reach 15 billion gallons by 2050.
"Without a clear vision of the future – what we want to be, where we want to go, and how we'll get there – we'll never be more than we are today," said Rehagen. "As carbon policies around the country really begin to take hold, we see low-carbon fuels like biodiesel, renewable diesel, and renewable jet fuel with a tremendous opportunity for growth. While the volumes in our new industry vision may seem ambitious, there is a very clear path to meeting this vision as long as we stay committed to working together and continuing to collaborate."
The association's plan includes a new tagline to go with the long-used biodiesel logo that emphasizes the benefits of the fuel in a succinct way – Better. Cleaner. Now! This tag line will be a center point of NBB's education and promotion activities moving forward, aiming to drive the narrative about the myriad of ways that biodiesel and renewable diesel are a better choice for consumers, policy makers, and the environment.
Listen to Rehagen's remarks:
NBB2020 Opening session - NBB CEO Donnell Rehagen (18:52)