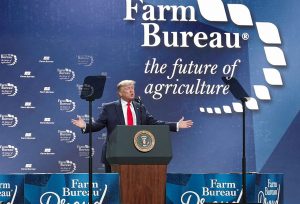 President Donald Trump addressed farmer and rancher members of the American Farm Bureau Federation for the third year in a row Sunday, and promised to be back next year while continuing to fight for what is important to them.
"My administration understands that if we want to stand up for America, we must stand up for American farmers," said President Trump. He touted last week's historic trade deal with China and Senate passage of the USMCA, as well as repeal of WOTUS and other regulatory burdens.
"As long as I'm president, government will never micromanage America's farmers," said Trump. "You're going to micromanage your own farm and that's the way it should be."
The president touched on other popular topics including elimination of the estate tax, need for immigration reform, and ethanol.
2020 AFBF President Trump address
(51:55)