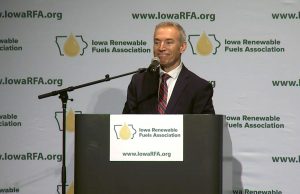 USDA Deputy Secretary Steve Censky had the pleasure of announcing the Senate passage of USMCA to the crowd at the 2020 Iowa Renewable Fuels Summit Thursday in Altoona, Iowa.
"Just about 20 minutes ago, I'm proud to say that the Senate finally passed the U.S. Mexico Canada Agreement on a vote of 89 to 10," said Censky as the crowd broke into applause. "Yeah, let's clap for that."
During his address, Censky also talked about the other big trade news out this week – signing of the phase one trade deal with China. "And that is going to have major impacts across the board for a host of commodities, not only soybeans and corn, pork, beef, poultry, specialty crops, tree nuts, ethanol, dried distillers grains, pet food … it all is going to really add up."
Censky discussed actions the Trump Administration has taken on behalf of the biofuel industry, including approval of year round E15, working with EPA to guarantee mandated levels of biofuels under the Renewable Fuel Standard, and USDA's creation of a new Higher Blends Infrastructure Incentive Program announced Thursday.
Listen to Censky's remarks here.
2020 IRFA Summit - USDA Deputy Secretary Steve Censky remarks (17:26)