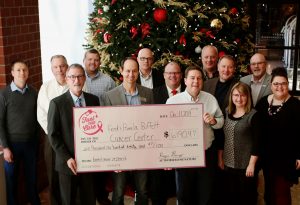 In the past two years, Nebraska fuel retailers and drivers have raised more than $13,000 for cancer research as part of Fuel the Cure, which has gone to fund efforts at centers in the state.
During October, when drivers chose higher blends of ethanol fuel like E15, E30 and E85 at participating retail locations, gas stations donated 3 cents for each gallon sold. The Fred & Pamela Buffett Cancer Center in Omaha received $6,190.47 and the June E. Nylen Cancer Center received $500, thanks to a generous match from Siouxland Ethanol.
"Fuel retailers know that regular and premium gasoline is harmful to the air we breathe. By making higher ethanol blends available, they are empowering consumers to help make a difference. Supporting Fuel the Cure is a step beyond because the funds are directly impacting lives of patients at the Cancer Center," said Roger Berry, administrator for the Nebraska Ethanol Board.
While 2019 Fuel the Cure has ended, the Nebraska Ethanol Board is already preparing for next year's event and would encourage Nebraska fuel retailers who are interested in participating to reach out.