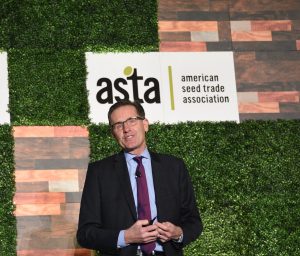 The most popular session at the annual ASTA CSS & Seed Expo is always the agricultural economy update by Dan Basse, AgResource Company, and this year was no exception as he opened the general session for the seventh year.
Basse offered his insights on this year's yields, impact of African Swine Fever in China, the ABU countries (Argentina, Brazil, Ukraine), and much more.
When it comes to demand drivers for U.S. corn and soybeans, Basse says they are mostly flat at this point, including ethanol, which he calls now "mature" and sees little or no growth going forward.
"When I get to 2022, I still believe we're going to be looking at 14 and a half or 15 billion gallons of ethanol, no matter what politicians do," said Basse, in response to a question after his remarks.
Listen to the question and answer here:
ASTACSS19 Dan Basse, AgResource, ethanol comments
Listen to Basse's full presentation and interview with highlights below:
ASTACSS19 Remarks by Dan Basse, AgResource
ASTACSS19 Interview with Dan Basse, AgResource