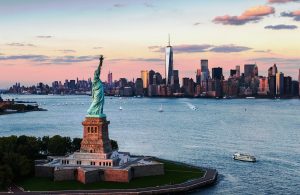 Drivers in the state of New York will soon have the liberty to choose 15 percent ethanol blended fuel (E15) under a rule finalized Wednesday by the New York Department of Agriculture and Markets.
"Consumers in the Empire State can now enjoy the economic and environmental benefits of E15, and the opening of the state's fuel market represents a growth opportunity for our industry at a time when new demand opportunities are sorely needed," said Renewable Fuels Association (RFA) President and CEO Geoff Cooper.
The ethanol industry has been working with state officials to support the expansion of E15 into New York. "This was a culmination of a long process over several years, and we're thrilled to see it finally move forward," said Tim Winters, President and CEO of Western New York Energy in Medina, one of the leaders of the effort.
New York ranks fourth in gasoline consumption, and with the country coming off the highest monthly sales ever for gasoline, there is a lot of room for volume growth for E15 and other ethanol blends.
American Coalition for Ethanol (ACE) CEO Brian Jennings supports the E15 part of the rule, but is disappointed that it also aims to prohibit market access to mid-level ethanol blends. "We appreciate that the Department intends 'to closely monitor the marketplace and will consider, at some future point, allowing additional blends if the marketplace adapts well to the introduction of E15' and we look forward to assisting in the development of this market opportunity in the future."
According to Growth Energy, sales of E15 this past summer were up 46 percent "compared to 2018 on a per-store basis" based on analysis of sales reported by Prime the Pump partnered retailers. The 2019 summer driving season was the first summer E15 was sold without restriction.