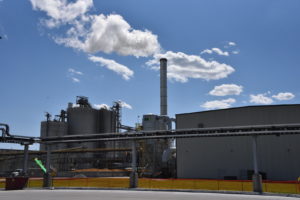 Ethanol production is recovering while ethanol exports are relaxing, according to the latest data available, as analyzed by the Renewable Fuels Association (RFA).
According to Energy Information Administration data for the week ending Nov. 1, ethanol production was 1.014 million barrels per day (b/d) or 42.59 million gallons daily. The previous week was the first time in six weeks that production got back up above 1 million b/d. But production is now more than 5% below the same week a year ago. The four-week average ethanol production rate increased 1.2% to an annualized rate of 15.27 billion gallons.
Ethanol stocks increased 3.7% to 21.9 million barrels following two weeks of declining volumes. However, inventories were 5.5% lower than the same week last year.
The latest U.S. ethanol export data is from September, showing a decrease of 18% to 100.3 million gallons (mg).
Canada was the top destination for the fifth consecutive month, scaling 4% higher to 32.4 mg. Exports to Brazil climbed 3% to a three-month high of 17.6 mg. In a departure from recent norms, sales to these two markets alone accounted for half of U.S. ethanol exports in September. U.S. sales were also strong in South Korea (8.9 mg, +55%), Peru (8.1 mg, +37%), the Philippines (6.9 mg, +224%), the United Arab Emirates (6.7 mg, +165%), the Netherlands (6.1 mg, +65%), and Norway (3.2 mg, a 70-month high). Total year-to-date exports of U.S. ethanol stand at 1.10 billion gallons. This implies an annualized export volume of 1.47 billion gallons which, if realized, would be the second-largest volume on record.