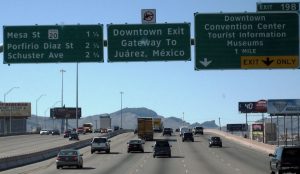 American Coalition for Ethanol (ACE) Senior Vice President Ron Lamberty returned to Mexico last week to speak at the first technical ethanol information forum to be held in Juárez, Mexico, just across the border from El Paso, Texas.
"Like Tijuana, Juárez is one of the top destinations for U.S. ethanol in the short-run because El Paso and Juárez are basically one large metropolitan area, divided into two different countries by the Rio Grande," Lamberty said. "El Paso has a two-billion-gallon refinery and Kinder-Morgan and Magellan fuel terminals already supply stations in Juárez and other cities in the state of Chihuahua. Ethanol is already in those terminals, and some E10 has already been purchased and delivered to stations in the area."
Lamberty has made a dozen trips to Mexico over the past two years to participate in the forums which are a joint effort of the U.S. Grains Council (USGC) and the Mexican Association of Service Station Suppliers (AMPES) to inform Mexican petroleum marketers about opportunities in sourcing, marketing, and retailing ethanol-blended gasoline. Lamberty attended four other workshops this year, including one in Tijuana, another border city minutes from San Diego's fuel terminal.