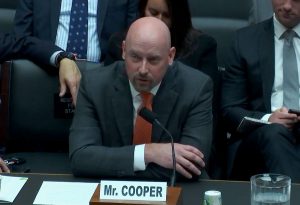 Biofuels industry representatives testified during a House Energy and Commerce Subcommittee hearing Tuesday on how the increase in small refinery exemptions (SREs) under the Renewable Fuel Standard has hurt ethanol and biodiesel producers and farmers.
"EPA's secretive and underhanded approach to the SRE provision in recent years has destabilized the RFS, reduced the production and use of clean renewable biofuels, increased GHG emissions and tailpipe pollution, and led to lost jobs and economic opportunity in rural America," said Renewable Fuels Association (RFA) President and CEO Geoff Cooper in his testimony.
Listen to Cooper's opening remarks:
RFA CEO Geoff Cooper testimony on SRE damage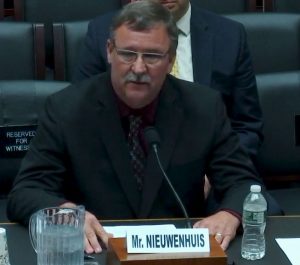 Testimony was also presented by Gene Gebolys, President and CEO, World Energy; Kelly Nieuwenhuis, President, Siouxland Energy Cooperative, Iowa; and Chet Thompson, President and CEO, American Fuel & Petrochemical Manufacturers.
Nieuwenhuis told lawmakers that EPA's abuse of small refinery exemptions under the RFS is crippling rural America. "Because of EPA's actions to help the oil industry's bottom line at the expense of farmers and biofuel producers, we had to make a hard decision – to idle our plant and shut off a key market for hundreds of local farmers, including myself," he said.
Listen to Nieuwenhuis's opening remarks:
Iowa Farmer Kelly Nieuwenhuis testimony on SRE damage
World Energy is one of America's largest suppliers of biodiesel and CEO Gebolys told lawmakers that small refinery exemptions have destroyed demand for hundreds of millions of gallons of biomass-based diesel and nine biodiesel plants across the country have closed or cut production as a result. "On August 16, I had to tell our employees, suppliers and the communities where we work that we were shutting down production at our plants in Rome, Georgia; Natchez, Mississippi; and Harrisburg, Pennsylvania – as a direct result of the EPA's misuse of its small refinery exemption authority," said Gebolys who testified on behalf of the National Biodiesel Board.
Listen to Gebolys's opening remarks:
World Energy CEO Gene Gebolys testimony on SRE damage