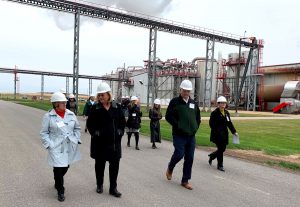 Seven Minnesota state agency commissioners toured the Guardian Energy ethanol plant last week to learn about the plant's production capabilities and how the ethanol industry helps reduce greenhouse gas emissions and boost the state's economy. Guardian Energy is located in Janesville, about 75 miles southwest of Minneapolis.
The commissioners who participated in the tour were Steve Grove (Minnesota Department of Employment and Economic Development), Sarah Strommen (Minnesota Department of Natural Resources), Steve Kelley (Minnesota Department of Commerce), Margaret Anderson – Kelliher (Minnesota Department of Transportation), Cynthia Bauerly (Minnesota Department of Revenue), Laura Bishop (Minnesota Pollution Control Agency) and Nancy Leppink (Minnesota Department of Labor and Industry).
Guardian Energy was established in 2009 and has since become one of the largest ethanol plants in the state. The plant uses 50 million bushels of corn annually, sourced within 75 miles of the plant from over 2,000 farmers, to produce 150 million gallons of ethanol, 300,000 tons of dried distiller's grains and 44 million pounds of corn oil a year.