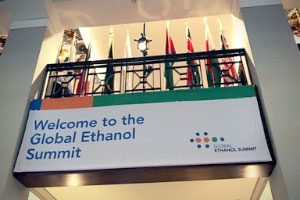 The first Global Ethanol Summit gets underway this morning in Washington D.C. with industry and government officials from 60 countries are meeting with U.S. officials to learn about prospects for expanded global ethanol use.
This week's Summit, sponsored by the Council, Growth Energy and the Renewable Fuels Association (RFA), features high-level government and industry officials from Algeria to Vietnam, who are working together to expand the global use of ethanol by developing policies with a role for trade.
Building on the success and momentum of 2017's Ethanol Summit of the Americas and 2018's Ethanol Summit of the Asia Pacific events, the Global Summit seeks to capitalize on potential markets around the world as demand increases for higher-level biofuels policies – including decreasing greenhouse gas (GHG) emissions and improving clean air quality. The Council and its partners are working in all of these countries to highlight ethanol's benefits and address constraints to expanding ethanol's use.
The two-day conference will feature remarks from both the U.S. Department of Agriculture's (USDA's) Deputy Secretary Stephen Censky and Foreign Agricultural Service's Associate Administrator Daniel Whitley, who will speak on collaboration and trade and the U.S. energy renaissance, respectively.