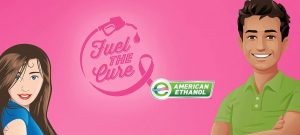 The Nebraska Ethanol Board is inviting drivers to help "Fuel the Cure" for breast cancer this month by choosing American Ethanol at the pump. More than 30 Nebraska gas stations will donate 3 cents for every gallon of higher ethanol blends (E15-E85) sold in October to support cancer research at the Fred & Pamela Buffett Cancer Center in Omaha.
"The Fuel the Cure program has been a tremendous partnership between Nebraska's ethanol industry and the Fred & Pamela Buffett Cancer Center," said David Bruntz, chairman of the Nebraska Corn Board and farmer from Friend. "Ethanol blends already help clean up our air from toxic, cancer-causing chemicals emitted from burning traditional gasoline, but throughout the month, you can make an even bigger impact by using higher ethanol blends to support breast cancer research. Ethanol benefits our health, our environment, our engines and our wallets."
Drivers will be able to identify which retailers are supporting this important cause by looking for pink signage at the pump, on the windows, and at the counter. Please visit www.fuelthecure.pink for a complete list of participating fuel retailers.
The Nebraska Corn Board and Nebraska Ethanol Board, along with Renewable Fuels Nebraska, sponsor Fuel the Cure in conjunction with retail stations.