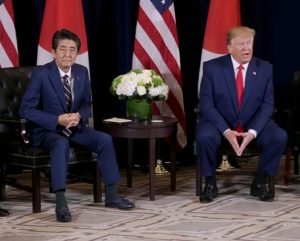 President Donald Trump and Japanese Prime Minister Abe signed a trade deal Wednesday worth billions for U.S. agricultural producers.
Under the market access agreement, Japan will open the market to approximately $7 billion in American agricultural exports, eliminating or significantly lowering tariffs for U.S. beef, pork, poultry, wheat, cheese, wine, certain nuts and berries, cherries, ethanol, and more. "So it's a tremendous trade deal. It's a very big trade deal," said President Trump.
The Japanese Parliament is expected to approve the agreement later this fall and it could be implemented as early as Jan. 1, 2020.