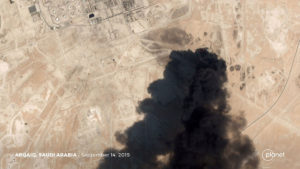 Drone attacks on Saturday in Saudi Arabia that knocked out more than 5 percent of global oil supply and caused a major spike in oil prices on Monday spotlight the need for real energy security by diversification of the liquid fuel supply, according to Renewable Fuels Association President and CEO Geoff Cooper.
"The crude oil and gasoline price spikes following the attacks on Saudi Arabia show once again that the Unites States cannot simply frack its way to energy independence," said Cooper. "Even with growth in domestic oil production, $18 billion flowed out of the U.S. economy to Saudi Arabia last year in return for 330 million barrels of petroleum. What the oil industry doesn't want you to know is that the United States imported 2.8 billion barrels of crude oil last year, equivalent to 45 percent of the oil processed by U.S. refineries."
"Diversification of our liquid fuel supply is the only way to truly insulate American consumers from the volatility and price shocks that plague the global petroleum market," Cooper continued. "The good news is we have a solution right here in America's farm fields and rural communities. Our nation's ethanol industry produced more than 380 million barrels of lower-cost, cleaner-burning renewable fuel last year—more barrels than we imported from Saudi Arabia."
President Donald Trump approved the release of oil from the U.S. Strategic Petroleum Reserve in response to the attacks, which are being blamed on Iran. It is being called the worst disruption to world supplies on record.