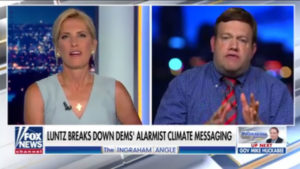 Political consultant, pollster, and "public opinion guru" Frank Luntz gave a surprising plug for the use of E85 (85 percent ethanol blended fuel) and the need for more flex fuel vehicles (FFVs) during an appearance on FOX News Channel's The Ingraham Angle with Laura Ingraham last Thursday.
"There's a gasoline, E85, it's ethanol," said Luntz during an interview about the "Climate Town Hall" with Democratic presidential hopefuls on CNN. "If our automotive companies make flex fuel vehicles at a cost of less than $100 per vehicle…it reduces our dependence or eliminates it."
Luntz claims E85 could make America energy independent by Election Day 2020. "We can make this change right now, have a positive impact on the economy, consumers would pay 50 cents less for gasoline, the air would be cleaner, the cars would run more efficiently – it works for everyone," said Luntz. "This is a real solution without all that craziness you saw from the Democrats."
Ethanol advocate Marc J. Rauch, THE AUTO CHANNEL, took notice of the interview right away and commented on the reaction that Luntz got from Ingraham:
Show host Laura Ingraham looked stunned by Luntz' ethanol advocacy, as if she had no idea that Luntz would talk about this safe, sane, domestic solution. At times, she appeared uncomfortable, nearly rolling her eyes, and made a short ill-informed comment about "more and more giveaways to corn growers." Luntz responded pretty well with correct contrary information and proceed with his pitch.
Watch the clip on THE AUTO CHANNEL – listen to the audio here:
Frank Luntz plugs E85 on Laura Ingraham show