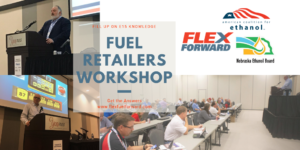 As the first summer of nation-wide approved E15 use winds to an end, a fuel retailer workshop hosted last week by the Nebraska Ethanol Board (NEB) and American Coalition for Ethanol (ACE) showed a lot of interest in learning more about offering the fuel.
ACE Senior Vice President Ron Lamberty, a former fuel retailer, keynoted the workshop which included testimonies and a question and answer session with fuel retailers Randy Gard, COO of Bosselman Enterprises, owner of the Pump & Pantry convenience store chain, and Phil Smith with Aurora Coop.
The event agenda also included the Nebraska State Fire Marshal for the Fuels Safety Division walking through the steps to take before adding blends E15 and higher, as well as information on proper labeling of fuel dispensers, state policies supporting ethanol sales, and financial resources for expanding infrastructure.