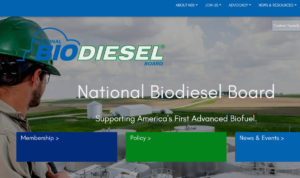 The National Biodiesel Board has updated three websites to make biodiesel content more accessible, especially from phones and tablets.
The three websites, www.biodiesel.org, www.nbb.org, and www.mybioheat.com, offer abundant information in a clean, modern style. They have also been enhanced with mobile optimization, allowing quick and easy website access from phones or tablets while on the go.
"We are excited to launch our new-look websites after more than a year of work streamlining, customizing, and simplifying our digital presence," said NBB Communications Director Kaleb Little. "NBB's websites are often the introduction to biodiesel for fleet managers, government officials, reporters, key influencers, the general public, and so many others. Keeping this platform clean, up-to date, and user friendly is critical to NBB's mission of continuously moving the industry forward."
NBB's family of websites continues to be the premier destination for finding biodiesel material on the internet. While the flagship websites, biodiesel.org and nbb.org, generate over 1.2 million page views annually, NBB manages an additional dozen websites that form the NBB Family of Websites. NBB is dedicated to ensuring content and delivery mechanisms are top of the line in order to continue delivering helpful information to millions more in the future.
Each of the sites is designed around their specific topic, with links available to all of the NBB family sites.
www.biodiesel.org is the go-to source for all content concerning America's Advanced Biofuel. Biodiesel 101, frequently asked questions, finding biodiesel, policy priorities, sustainability, success stories, and so much more – this site is a one stop shop for all things biodiesel.
www.nbb.org is designed for those interested in the trade association – the National Biodiesel Board. The organization's history, governing board and staff information, membership applications and recruitment material, member facilities maps, policy priorities, and other association business are all housed here.
www.mybioheat.com is the centerpiece of the heating oil industry's transition to renewable liquid heating fuels. The site makes the case for Bioheat® fuel as a safer, cleaner, more affordable residential heat source as well as mapping the industry's road to B50 Bioheat® by 2030.
The trio of redesigned websites offer a fresh new face to deliver the same great biodiesel content NBB has maintained for years. Get online and check them out today.