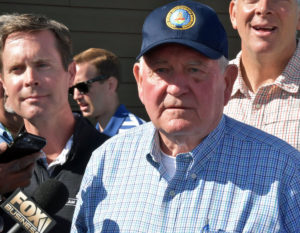 Secretary of Agriculture Sonny Perdue was tight-lipped last week at the Farm Progress Show when it came to details of the administration's "small refinery waiver mitigation efforts" that President Trump "really wants to announce himself."
"I don't want to steal the president's thunder on that," Sec. Perdue said during a listening session held Wednesday morning at Richland Community College on the show site. Perdue repeatedly declined to give any specifics of the plan during several appearances at the show during the day, but he did toss out a couple of ideas he pitched to the president. "I presented some plans to him over infrastructure growth from (E)10 to (E)15," said Perdue. "One other idea I suggested was that we take off the orange skull and cross bones on the E15 pumps."
Listen to some of Perdue's comments on small refinery waiver mitigation efforts.
FPS19 Sec. Perdue small refinery waiver comments
On Thursday, President Trump tweeted about the plan that he is hoping to announce in person somewhere in the Midwest within the next couple of weeks.
The Farmers are going to be so happy when they see what we are doing for Ethanol, not even including the E-15, year around, which is already done. It will be a giant package, get ready! At the same time I was able to save the small refineries from certain closing. Great for all!
Sec. Perdue took a call with President Donald Trump on stage at Farm Progress Show, but the topic was trade with China and not biofuels.