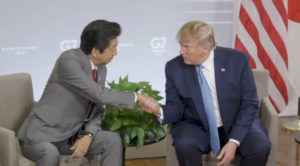 During the G-7 summit in France Sunday, President Donald Trump and Japanese Prime Minister Shinzo Abe shook hands on a deal "in principle" that involves agricultural products.
"(We) have excess corn in various parts of our country, with our farmers, because China did not do what they said they were going to do," said President Trump. "And Prime Minister Abe, on behalf of Japan, they're going to be buying all of that corn. And that's a very big transaction. They're going to be buying it from our farmers."
Prime Minister Abe said there is a demand for some agricultural products right now in Japan because they are experiencing some insect pest issues. "And there is a need for us to buy certain amount of agricultural products. And this will be done by the Japanese private sector. That means that Japanese corporations will need to buy additional agricultural products."
U.S. Trade Representative Robert Lighthizer says the deal "will be a major benefit for beef, pork, wheat, dairy products, wine, ethanol, and a variety of other products."
Listen to remarks by Pres. Trump, PM Abe (translated), and USTR Lighthizer.