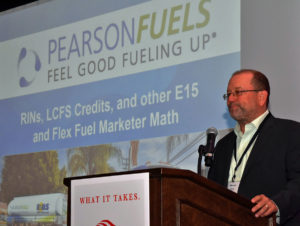 Mike Lewis co-founded Pearson Fuels in 2003 as an "alternative fuels" station in San Diego, California. Today, Pearson Fuels is the largest distributor of E85 in California, supplying over 140 locations and about 76% of the market.
Receiving the Paul Dana Marketing Vision Award at the American Coalition for Ethanol (ACE) annual conference last week, Lewis noted that Pearson Fuels now sells twice as much E85 each year as the entire state of Minnesota, after significant steady growth since 2014 which is continuing.
Lewis would like to see the industry strongly support and advocate for more flex fuel vehicles as auto manufacturers have steadily been making less and less of them each year, "and they will continue to dial it back further and further until there is none, unless there is some kind of government incentive for them to do it."
Learn more in Lewis' remarks and interview below:
ACE Conference retailer panel, Mike Lewis, Pearson Fuels
ACE Conference interview with Mike Lewis, Paul Dana Marketing Award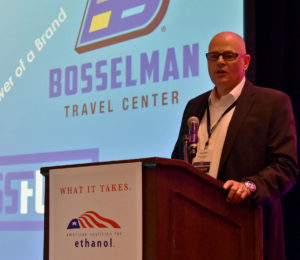 Also on the retailer panel at the ACE conference was Randy Gard, COO of Bosselman Enterprises and the spokesperson for all retailers on the stage with President Donald Trump in June at Southwest Iowa Renewable Energy (SIRE) when approval for year-round sales of E15 was announced.
Gard says they are aggressively promoting E15 and higher blends in their Pump and Pantry stores this summer and he talked about how the branding of Boss Fuel helped sales really take off. "All we did was brand it and kind of give E15 an identity," says Gard of the Super Unleaded 88 "best value" Boss Fuel.
ACE Conference retailer panel, Randy Gard, Bosselman Enterprises