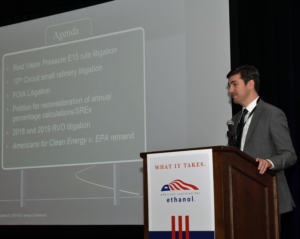 Various legal battles are ongoing to protect the Renewable Fuels Standard (RFS) and ethanol market share. An update on these efforts during the American Coalition for Ethanol Conference came from Bryan Stockton, Counsel, Pillsbury Winthrop Shaw Pittman LLP.
Stockton shared what he called "the good, the bad and the ugly," celebrating the timely release of the long anticipated E-15 final rule from the Environmental Protection Agency (EPA) in June 2019 allowing for year-round sales of E-15 but acknowledging a number of challenges to that rule since that time.
Stockton also spoke of ongoing challenges to small refinery exemptions (SRE) and the annual renewable volume obligations (RVO) rules, sharing one particular case brought forth by a number of groups regarding three specific small refinery exemptions.
"These SREs are significant. We've looked back at 2016 and 2017, and each year it essentially works out to about nine percent or so of the entire RFS being waived through these exemptions," said Stockton.
He added that traditionally these exemptions have not been published, although EPA did publish consolidated information on its website about SREs in 2019, acknowledging the need for greater transparency.
Listen to Stockton's full commentary here:ACE Conference legal update, Bryan Stockton remarks