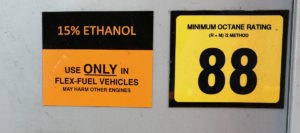 Growth Energy and GasBuddy have partnered to bring Unleaded 88 to GasBuddy's database and app.
Unleaded 88 is 15 percent ethanol, or E15, approved for cars 2001 and newer, and GasBuddy is a smartphone app and website used by millions of drivers every month to avoid paying full price for fuel. It is the world's largest database of real-time, crowdsourced gas price data covering more than 150,000 North American gas stations.
This new partnership allows GasBuddy's app users access to a comprehensive database of Unleaded 88 fuel at more than 1,800 retail locations around the country. Additionally, Growth Energy and GasBuddy have launched an advertising campaign within the app to promote the benefits of the renewable fuel to consumers.