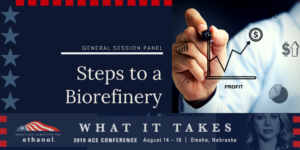 The American Coalition for Ethanol (ACE) annual conference begins today in Omaha starting with a welcome reception this evening sponsored by nine state corn grower organizations.
Business gets underway tomorrow morning with a welcome from Nebraska Governor Pete Ricketts, followed by industry updates and a keynote presentation by new U.S. Grains Council CEO Ryan LeGrand.
With the bottom line a big concern for ethanol producers, there are several sessions and the final general session panel on Friday devoted to improving profitability. That last session on "Steps to a Biorefinery" will feature speakers from Fluid Quip Technologies (FQT), ICM Inc., and ACE member plant Golden Grain Energy (GGE), moderated by consulting firm Ascendant Partners Inc.
Follow the conference action here and on Twitter and Facebook with the hashtags #WhatItTakes #ACECONF19.
Get a preview of the annual meeting this year from ACE Senior Director of Operations and Programming Shannon Gustafson.
Interview with Shannon Gustafson, ACE