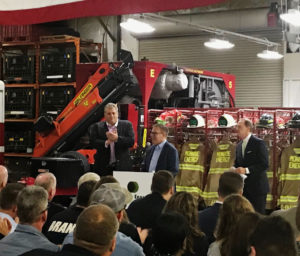 EPA Administrator Andrew Wheeler visited an oil refinery in Pennsylvania Monday at the request of Sen. Pat Toomey (R-PA), who just last week filed legislation in Congress to eliminate corn ethanol from the Renewable Fuel Standard. Now ethanol producers would like to see Wheeler visit one of their plants.
"This refinery produces 200k barrels/day and is a great economic driver for the region," Wheeler tweeted after his tour of Monroe Energy, which is owned by Delta Air Lines.
Renewable Fuels Association president and CEO Geoff Cooper issued an invitation to Wheeler to balance his visit to Monroe with a tour of an RFA member ethanol plant and discussion with plant workers and local farmers.
"During your visit, you likely will hear the refiners' perspective on the Renewable Fuel Standard, and they will no doubt encourage you to continue EPA's unprecedented use of small refinery exemptions," Cooper wrote in his invitation letter. "Even though Monroe Energy is not a 'small refinery,' Delta officials will certainly argue that the company has benefited from the waivers because they resulted in a significant collapse in RIN prices. Of course, your agency's own analysis has concluded that the financial health of refineries is not affected by RIN prices, stating that, '…obligated parties, including small entities, are generally recovering the cost of acquiring the credits necessary for compliance with the RFS standards through higher sales prices of the petroleum products they sell.'"
Cooper is hopeful that Wheeler will come and learn more about the challenges the ethanol industry is facing. While Wheeler was briefly at Southwest Iowa Renewable Energy (SIRE) in June as President Trump made an appearance there to celebrate completion of the year-round E15 rule, he was not able to tour the facility with President Trump, Cooper, and SIRE CEO Mike Jerke.